Hi!
Welcome back to The Hoot.
First up, I'm excited to announce that I was once again invited by my good friend, Renee Baribeau, to participate in another I AM Symposium – this year's "Winter Solstice Gathering 2017."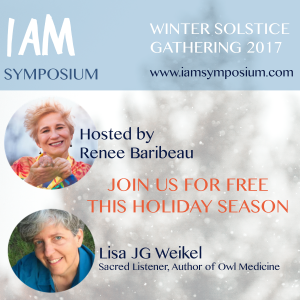 Join me, along with 24 other wisdom-keepers, at a virtual fire where we will share a plethora of unique ideas on life, creativity, passion, intuition, ceremony, spirituality, Nature, and other perspectives and strategies that will not only take us through the darkness of the shortest days of the year but will lead us into 2018 with the "wind at our backs."
Speaking of winds…
I'm beyond excited to announce the imminent publication, by Hay House, Inc., of Renee's groundbreaking new book, Winds of Spirit. (Available for pre-order now.) 
Renee has extensively researched humanity's relationship with the "breath of life," and has compiled a comprehensive pantheon of Wind-Spirits from all over the world, providing us with long-forgotten historical and mythological references and background. These Beings are boldly stepping forward to be of service to all of us in navigating our lives, and Renee has proved to be a faithful and relentlessly disciplined scribe for their messages.
My message, as usual, is the value of cultivating our ability to truly LISTEN – to ourselves, to each other, to Mother Nature, to unseen guidance, to our SOULS.  My particular talk will be airing on Saturday, December 23rd at 1:00 p.m. EST. Register here and you'll receive a link in your mailbox every morning.
Indeed, as Spirit always seems to challenge me to "walk my talk," (and listen to my guidance) I've now added an Events page to my website where you can find a description of my Listening Retreats and a schedule of retreat weekends I'm offering in 2018.
If none of these are a good fit for you, check back in January (and periodically after that!) to see if I've added more weekends, probably at other venues.
The reason I'm now advertising my Listening Retreats on my website is because I'm getting the message from so many sources that learning and actively practicing what I call Sacred Listening has the potential to be a tremendously healing tool for ourselves, our families and friends, and our world.
I know, it sounds easy. Too easy, in fact, for it to actually make a difference in anyone's life, much less "the world." But I've seen and felt first-hand how rare it is for any of us to have the experience of Sacred Listening touch our lives.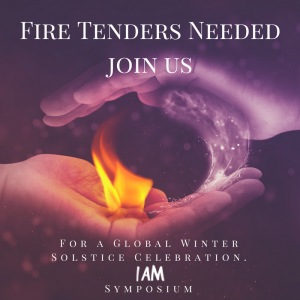 So, once again, I invite you to join us "by the fire" for 16 days of the completely free Winter Solstice Gathering 2017 I AM Symposium, beginning this Thursday, December 21st, 2017 to LISTEN to nuggets of wisdom, tidbits of joy, snippets of insight, and seeds of inspiration from cool people who have lots to share.
Again, my particular talk will be airing on Saturday, December 23rd at 1:00 p.m. EST.
Most of the interviews are 30 minutes long, and most days feature the release of two speakers' presentations, which you can listen to at any time during the day they're released, as well as for two days thereafter. Give yourself the gift of an hour a day during this busy, yet begging-for-introspection time of year.
You're worth it. And so are the messages you'll hear!