Today is a big day for me!
As many of you know (those who are already on my "Hoot List"), I'm honored and delighted to be participating as a presenter in an online gathering of 24 fascinating people from all walks of life who have faced great loss or major life challenges and not only survived, but also discovered truths, approaches, perspectives, and strategies that serve them well in moving forward with their lives.
The "I AM Symposium" began two days ago, on Monday, October 12th – and if you sign up today for the entire program, you'll still be able to hear the first presenter's talk for free. Each day a single presentation is broadcast, and those who have signed up for the event have 72 hours to listen each one.
If you can't manage to snag the time each day to listen – or if you miss the talk of someone you'd love to hear but didn't catch them within the "free" 72 hour window – or if you just find you would like the opportunity to listen to each presentation at your leisure, as many times as you would like, you can purchase and download the entire 24-speaker package for $47. (Just scroll to the very bottom of the sign-up page.)
Sorry for such a detailed explanation, but details are helpful. And no matter which way you look at it, either "completely free" (but requiring a somewhat disciplined listening approach) or 24 unique presentations for $47 – it's a pretty sweet deal.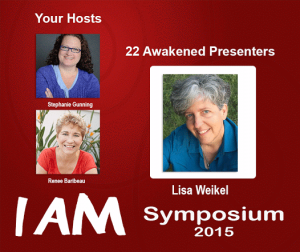 I started this post out by saying that today is a big deal for me because my "story" airs today. It's personal, it's real – and this is the first time I've ever participated in such a venture, so I have no baseline as to what to expect. And even though I often write with stark honesty, direct from my heart, about personal issues, I rarely "speak" of such things.  So, this was a stretch!
If you've come to my website because you just heard me on the "I AM Symposium" broadcast, welcome! I'd like to offer you the opportunity to receive a free chapter of my book, Owl Medicine, in thanks for signing up for my Hoot List, if you choose to do so. (And I'm trying to figure out how to do this on my own, without bugging my most revered Web Master, Mark. If I don't figure it out within a day or so, I will ask him to set it up!)*
As I mention (a lot) in my presentation, I feel listening – true, deep listening – is one of the greatest gifts we can give both ourselves and other people in our lives. And as much as I am a fierce advocate for the necessity of listening as a part of a healthy and fulfilled life, I also know how very, sometimes uncomfortably, challenging it can be to really and truly LISTEN to the messages we're receiving. The chapter from Owl Medicine that I'm offering you shows you just what I mean (and how I've sometimes had to learn the hard way).
I hope you enjoy the I AM Symposium!  Of course, if you love it, please do not hesitate to share it with your friends.
Finally, I urge you to "stay tuned" if you're interested in perhaps attending a Listening Retreat with me…
*And if anyone who already is a part of my Hoot List would also like to receive the free chapter, just send me an email and I'll get it out to you!